22 November 2014



Spread the word on the street or at the rock club with our official t-shirt in male or female designs and a choice of sizes. Order now from the store.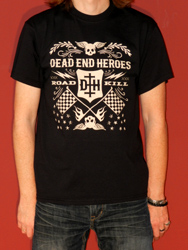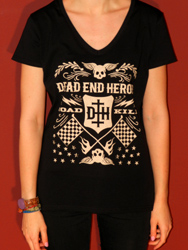 4 November 2014



A nice write up for our debut at http://melodicrock.com/articles/reviews/2014/10/31/dead-end-heroes-road-kill-review

30 October 2014



Rolf had a chat with Woody's Rock Reviews. Check it out at http://www.woodysrockreviews.co.uk/interviews-1/rolfmunkesdeadendheroesinterview
21 October 2014


Carsten Schulz will be doing a Live Radio interview on Thursday 23rd at 6PM CET, listen at http://twistersmusic.com/carsten-lizard-schulz-vocalist-dead-end-heroes-call/
12 August 2014


1 August 2014


Rolf Munkes spokes to Rock Radio NI, read the interview HERE.
Roadkill review at RockUnited.com
http://rockunitedreviews.blogspot.co.uk/2014/06/dead-end-heroes-roadkill.html
Woodys Rock Review scores Roadkill 8/10, read the review at
http://www.woodysrockreviews.co.uk/album-reviews/deadendheroes-roadkill
Roadkill gets a great write up at UberRock.co.uk
RushOnRock.com gives Roadkill 8/10, read the review at
http://rushonrock.com/2014/06/29/reviews-new-music-182/
Roadkill scores 4/5 at Metal Underground.at
http://www.metalunderground.at/?p=31431
26 June 2014


Carsten Schulz spoke to Rock Overdose, read the interview at http://www.rockoverdose.gr/news_details.php?id=31985

Roadkill scores 8.5/10 at PowerMetal.de - http://powermetal.de/review/review-Dead_End_Heroes/Roadkill,24245,24121.html
Roadkill scores 8.5/10 at Metal Forces Magazine
http://www.metalforcesmagazine.com/site/album-review-dead-end-heroes-roadkill/
A good write up at Rock The Bow http://rock-the-bow.ch/dead-end-heroes-roadkill-hammeralbum-ende-juni
07 June 2014



Jason Ritchie gives "Roadkill" an impressive write up at Get Ready To Rock.
29 May 2014



We're shooting a video for the title track on June 7th and 8th! Expect full blown Rock'n'Roll.... Cars & Chicks! More info to follow soon.


Another awesome "Roadkill" review, this time at www.heavyhardes.de/review-9362.html

22 May 2014



Check out the exclusive Melodicrock.com showcase and get a sneak peak of the full album over at www.melodicrock.com/showcase/deadendheroes-roadkill.html


DEH will be featured "On The Rock Train" on Siren 107.3FM
http://player.sirenonline.co.uk tonight at 8pm UK time!
16 May 2014


The first review is in for "Roadkill" and we are pleased to announce a killer score and write up.
Read it now at http://www.metal-temple.com/site/catalogues/entry/reviews/cd_3/d_2/dead-end-heroes.htm
29 April 2014


Here is the cover for "Roadkill" designed by acclaimed German artist Steve Santana.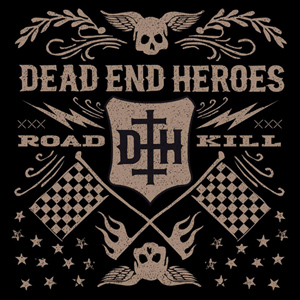 We can now confirm the track listing for our debut album "Roadkill" as
01. Roadkill.
02. Dead End Heroes.
03. Cry For The Moon.
04. Feed The Flames.
05. The Wind Howls Fire.
06. Stormfront.
07. Hands Off The Wheel.
08. And The Loser Is.
09. Technicolor Love.
10. The Fire's Worth The Loneliness.
11. Gambler's Crusade.




Be sure to like us at Facebook.
7 April 2014



We are delighted to announce we have signed with the AOR Heaven label for the upcoming release of our debut album "Roadkill" in June 2014.
Full details coming soon.